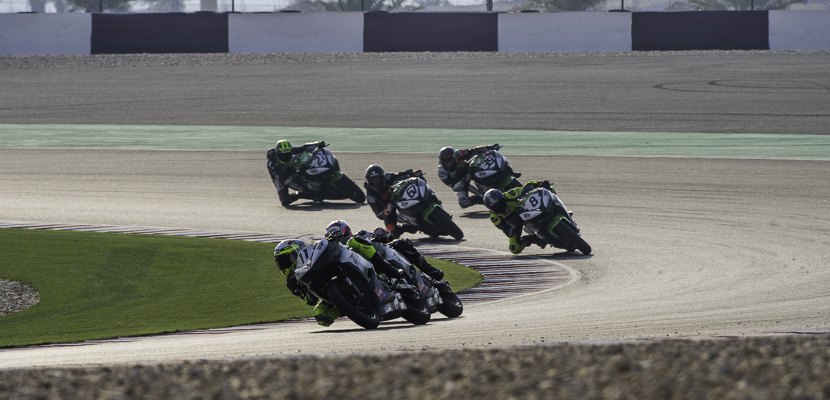 Hamad Al Sahouti wins QSTK 300 Supersport Championship
Hamad Al Sahouti wins QSTK 300 Supersport Championship
In the QSTK 300 Supersport championship, there were two races in this last round held at Losail International Circuit. In the first race, the win was for Hamad Al Sahouti, followed by Yousef Al Darwish and Alexian Macary.
In the second race, there was again a close fight between Al Sahouti and Al Darwish who finally took the victory. Macary finished again in third place.
As this round was the last one of the QSTK 300 Supersport season, Al Sahouti was claimed the winner of the championship. 'I am very happy for winning this championship. All the races were amazing with amazing fights and aggressive. It has been a great experience and I want to thank QMA, Losail Circuit and QMMF for this great opportunity and championship' said Al Sahouti.
Al Darwish finished second in the championship 'The whole championship was a great event; all the races were amazing with intensive battles. I want to thank all my supporters and sponsors, Ooredoo and also Qatar Motorsports Academy, Losail Circuit and QMMF. This is a great opportunity for the young riders to improve for the Spanish Championship and do better performances in the future' commented Yousef
The French rider Alexian Macary ended third in the championship 'It was an amazing championship. There were only three rounds but I think I did well in all of them. I was very stressed in the first round as it was my first experience in a big track and big bike but then I pushed to my hardest and I achieved more than I expected. I want to thank QMA for coaching me and give me this amazing opportunity to race and also to Losail Circuit and QMMF for making this event possible' said Macary.