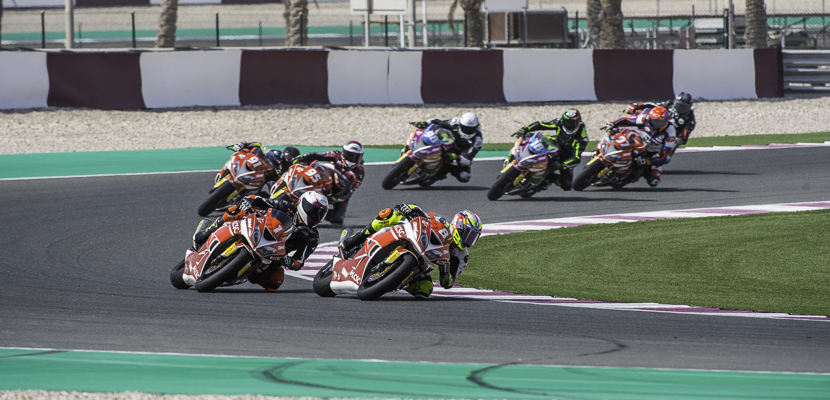 Saeed Al Sulaiti claims QSTK 600 double
Saeed Al Sulaiti won both races during the fourth round of the Qatar Superstock 600 and is now leading the championship only five points in front of Abdulla Al Qubaisi.
In the first race, Saeed Al Sulaiti, who got the Superpole, pushed from the second lap and lead the race until the checkered flag with a total time of 25:07.473. Podium was completed by Mishal Al Naimi and Abdulla Al Qubaisi. The Bulgarian rider, Mihail Florov, finished in fourth place followed by Soud Al Thani.
In the second race, Al Sulaiti followed the same strategy, he pushed from the beginning and took the victory. This time, Abdulla Al Qubaisi finished second and Mishal Al Naimi came in third position.
Al Sulaiti was very happy with his performance this weekend 'I am very happy with my results this weekend. For me, to have a hope to win again the championship, it was a must to win both races. Last three rounds were a bit difficult for me and was not really ready but for this round I prepared very well. I knew that if in the race I could run in the first four laps, it will be difficult for them to catch me so in the first race, in the middle of the race I created a big gap and in the second race, it was more difficult with the weather but we also managed' said Al Sulaiti
Mishal Al Naimi, after yesterday crash in the Superpole, had some problems with the bike during the races 'I started the weekend with the same set up and I didn't have any problem with the front tyre but when I crashed yesterday in the Superpole I changed the bike and it was not perfect at all for the good timing. In the race, the bike had a good pace but Saeed was fastest today. Happy to finished second and third and hope better results in the last round. Thanks to Ooredoo, QMMF and Losail Circuit' commented Al Naimi.
The double winner of the previous round, Abdulla, was not happy at all 'I am not very happy overall with this weekend. I was not really prepared for this round and Saeed was very fast and very well prepared. Hopefully, I can be stronger in the last round as it will be very difficult' said Al Qubaisi.
In the QSTK Trophy, the first place was for Jeremy Parola followed by Rayad Al Emadi and Alexander Qabazard in the first race. In the second race, Parola and Emadi repeated the same results but this time the third place was for Hassan Al Mansoori.