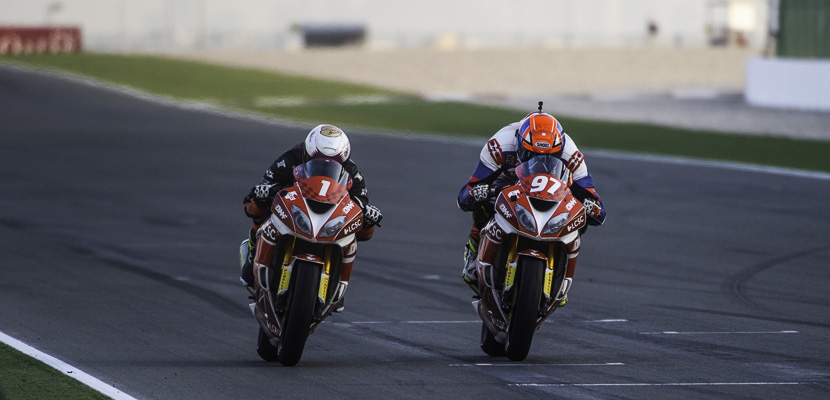 Superpole for Saeed Al Sulaiti in Qatar Superstock 6
Superpole for Saeed Al Sulaiti in Qatar Superstock 600
Hamad Al Sulaiti & Ghanim Al Maadheed fastest drivers in the QTCC
Saeed Al Sulaiti got the Superpole of the penultimate round of the Qatar Superstock 600 held at Losail International Circuit.
The defendant QSTK 600 champion took his first Superpole of the season with a lap time of 2:03.750, in front of Abdulla Al Qubaisi and Mashel Al Naimi respectively. Abdulla and Mishal crashed in the penultimate lap when Abdulla was trying to overtake MishaL but he lost the front tyre and both crashed.
Al Sulaiti was very happy with his performance today ' I am very happy. This weekend I focused to try to make fast laps with used tyres in the two free practices as I know that in the last rounds we struggled with the tyres in the last lap. So in the Superpole I felt good with the bike and finally I did my best personal lap so I am really glad and hopes everything goes well for tomorrow' said Saeed.
In the QSTK Trophy, the fastest rider was the French rider Jeremy Parola followed by Rayad Al Emadi and Alexander Qabazard.
In the QTCC 2K, the fastest driver in the qualifying session was Ghanim Al Maadeed. The Lotus Elise driver only needed two laps to secure the pole position with a lap time of 2:22.560. 'I am very happy with the performance of the car, it is working perfectly with no problems. Hope that tomorrow we don't have any issue and we can win both races' said Al Maadheed. The second place was for Nasser Al Ahbabi and Mohamed Al Aseeri respectively.
Hamad Al Sulaiti took his first pole position of the season in the QTCC M240. Al Sulaiti , with a lap time of 2.14.330 will start on the front grid of the Qatar Touring Car Championship.
'I am very happy with my first pole position of the season. The car is very good with no problems. I hope tomorrow I can take a double win' said Al Sulaiti.
Abdulla Al Khelaifi finished second in the QTCC M240 class, with a lap time of 2:15.108 followed by Saadon Al Kuwari who did a lap time of 2:14.126.