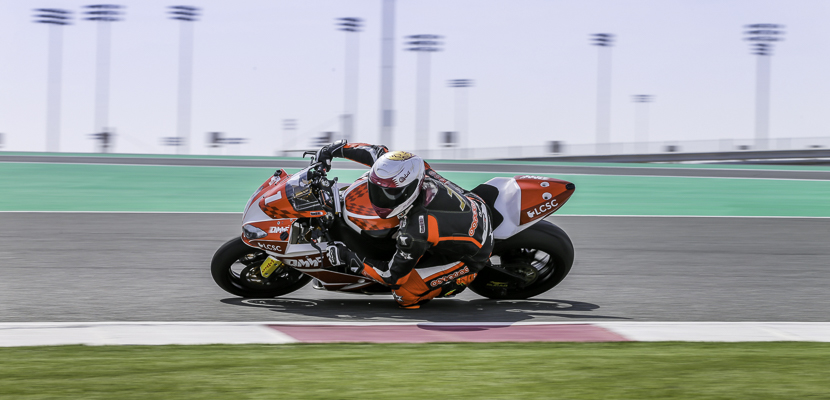 Al Sulaiti takes last Superpole of the season
Saeed Al Sulaiti got the last Superpole of the season at the Qatar Superstock 600 held today at Losail International Circuit.
For the last round of the season, three wild card riders joined the QSTK Trophy category, Lambros Kouris from Greece, Patrick Roux from France and the Italian rider Simone Muscolino.
The defendant QSTK 600 champion, Al Sulaiti, took his second Superpole of the season with a lap time of 2:04.440, in front of Abdulla Al Qubaisi who did a lap time of 2:04.815. The Bulgarian rider Mihail Florov finished in third place.
'I felt very good today with the two free practices and we were doing really good lap timings. In Superpole I was trying to be faster than 2.04 but it was a bit difficult and wind change direction but in the end I am happy to win the Superpole and I am ready for tomorrow' said Al Sulaiti.
In the QSTK Trophy, the fastest rider was the French rider Jeremy Parola followed by Rayad Al Emadi and Australian rider Alastair Cunliffe
A total of 25 cars joined the fifth and last round of the Qatar Touring Car Championship between the two categories, QTCC 2K and QTCC M240.
In the QTCC 2K class, the fastest driver in the qualifying session was Ghanim Al Maadheed with a Lotus Elise and a lap time of 2:24.923.
'The car is really good and I had no issues at all today. Hopefully I can keep it like this and can get the title tomorrow' said Al Maadheed.
Second place was for Abdulaziz Abdulla with a Honda and a lap time of 2:26.726 followed by Hamad Al Asam, who qualified third with a lap time of 2:27.245.
In the QTCC M240 class, the pole position was for Abdulla Al Khelaifi with a lap time of 2:15.170.
'I started the Free Practice with my original car as in previous rounds but we had some technical issues again so we switched car for the practice session. I did only one lap and it was the fastest lap so we will keep the same set up for the Qualifying. In the Qualifying, I finished first with a good gap' said Al Khelaifi.
'Tomorrow, we will start all with new tyres so I think the competition will be much stronger. Between me and Hamad there will be 3 positions on the grid and if I keep them and he finishes fourth, then I am back into the fight for the championship' ended Al Khelaifi.
Nasser Saadon Al Kuwari who did a lap time of 2:16.462 finished second followed by Saadon Al Kuwari who was third with a lap time of 2:16.548.
Tomorrow, QSTK Race 1 starts at 11:00 and Race 2 at 13:50. For QTCC, the first race is scheduled at 12:25 and the second race at 15:10.