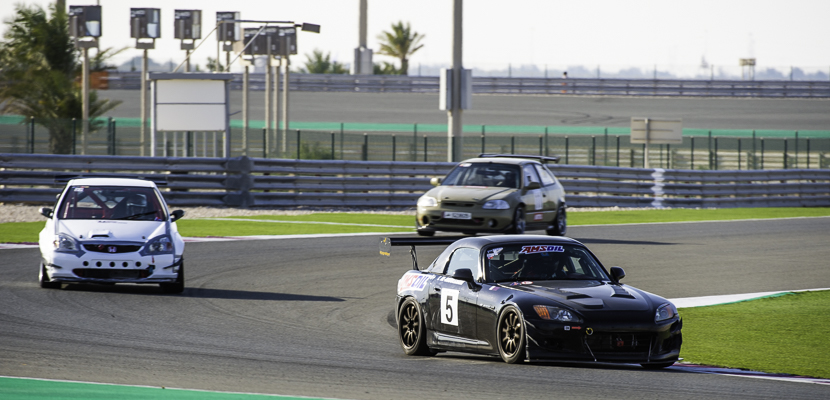 Al Khelaifi and Al Abdulghani fastest again in the QTCC
A total of 27 cars joined the third round of the Qatar Touring Car Championship, with the two categories running at the same time, QTCC 2K and QTCC M240.
In the QTCC 2K, the fastest driver in the qualifying session was Ibrahim Al Abdulghani with a
Honda S200 and a lap time of 2:26.922. Although Abdulghani set the fastest lap time in his category, the driver was not satisfied at all with his performance '
I qualified first in my class but I am a bit disappointed with my timings as my best time in the first round was 2:24.597 and now I am almost 3 seconds slower. I changed few things in the car and hopefully I do better tomorrow.
Hamad Al Asam qualified in second place in his category with a lap time of 2:28.116.
'The weather conditions are really confusing, we cannot understand the car's reaction and it was a bit difficult to get the car in a good set up. I am happy I am second and I have some chances to be on the podium tomorrow. I want to keep my engine safe and we have done half way so there is another half to finish'
In the new category of the QTCC Championship, QTCC M240, the pole position was again for Abdulla Al Khelaifi with a lap time of 2:15.697 followed by Hamad Al Sulaiti and Nasser Saadon respectively, with a gap of 0.130s between the three of them.
Al Khelaifi was very happy with his result today. 'I got very good results today, I managed to broke the lap time to 2:15 and with the difference between the top 3 positions so tight, I think the race will be very exciting. I know some of them had some traffic at the track during their hot laps and I am expecting more from them in the first race, I will try to defend and take it easy and hopefully no accident and we can keep the position' said Al Khelaifi.
Al Sulaiti, who finished second only 0.067s behind of Al Khelaifi was happy with his result 'Hopefully tomorrow I can be at the podium. Today my timings were very good but I found some traffic at the track that made me not to do a better results' commented Al Sulaiti.
Saadon Al Kuwari, third classified in his category was quite happy with his performance 'I am quite happy with the qualifying and we are really close with the timings so tomorrow there will be an exciting battle between the front drivers from the start. I went out early because we are using a new compound for the tiers and we wanted to know how it was performing. The team worked very hard the last weeks to improve the car, the alignment. I will take it easy, I am learning from Abdulla, he is teaching me where I can get more time and hopefully tomorrow we don't have any accident and do a great race' ended Al Kuwari.